Toyota Premio 2010 and Toyota Allion 2010-Similar Cars:
Toyota Premio 2010 and Toyota Allion 2010 are quite similar in terms of manufacturing, engines, fuel consumption and mileage and even launched and modified in same span of time but both cars target different types of buyers and age groups. The basic attributes are , 5 F L Package Brand, interior color beige, exterior color black, fuel can be petrol or diesel, body style is sedan and seats/doors are 5/5.
Toyota Premio 2010 and Toyota Allion 2010 Target Young Generation:
The Toyota Allion was launched in the market with the aim to target young generation; its smart looks and sporty style grab the attention and attracted the youth towards it. The Toyota Allion 2010 belongs to the second generation of Toyota Allion and it was a spiced up launch with sharper colors, youthful design, younger and ravishing appearance. Toyota Premio was launched in 2001, it was the successors of Toyota Corona and Corona Premio, and since its launch in December 2001 several revisions were introduced in 2001-2006 and 2007 till present in various forms, modifications and up-gradation considering the buyer's requirement.
Toyota Premio 2010 is a Replacement of Toyota Carina:
 Toyota Premio is a 4 door sedan; the first model was marketed in December 2001 which was a replacement of Toyota Carina. The Toyota Premio 2010 is the modification of car introduced in 2001, it has maintained the consistency with slight changes, while Toyota Allion consist of two generations, the first generation last for 7 years  and the second generation started from 2007 onward. The plus points of Toyota Premio 2010 that makes it stand out of the crowed are, classy and luxurious look, flexible handling and control, less fuel consumption and the warning alarm system to put on seat belts before driving and take out keys when the engine is off. Its name Toyota Allion | SBT JAPAN was based on "all-in-one".
The First Generation of Toyota Allion Car: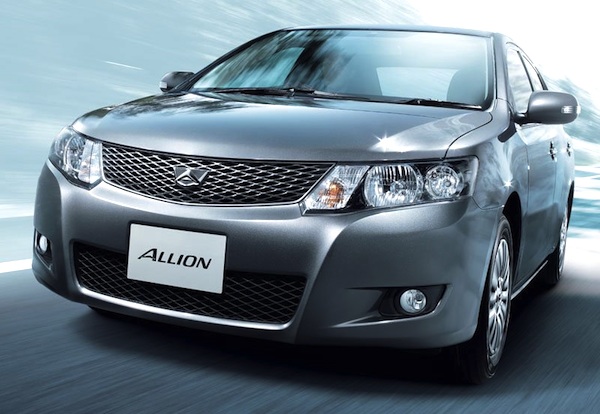 The Toyota Premio is also termed as a compact sedan and it's sold in Japan by Toyota according to the Japanese regulations. The Toyota Allion was also introduced in 2001, its first generation was 2001-2007, and the second generation is Toyota Allion 2007 till present. The Toyota Premio is an up-gradation or modification of Toyota Allion Sedan, although both cars were introduced at the same time but Toyota Premio is comparatively an executive class and luxurious car than Toyota Allion. It is the top choice of youngsters for long drives and ride at rough areas. The major difference between Allion and Premio is, Allion is categorized among casual cars while Premio is termed as classy and formal. The highlighted change in this model was taillight LED and brighter headlights. The specifications of Toyota Premio 2010 are quite impressive, it is provided with vehicle grade 1.